If anyone has attended a trade show or conference in the Philadelphia area, they have more than likely been exposed to the history and grandeur that is the Pennsylvania Convention Center. With a historic Reading Railroad train shed dating back to 1893, the Grand Hall of the center is known as the world's oldest surviving single-span arched roof structure.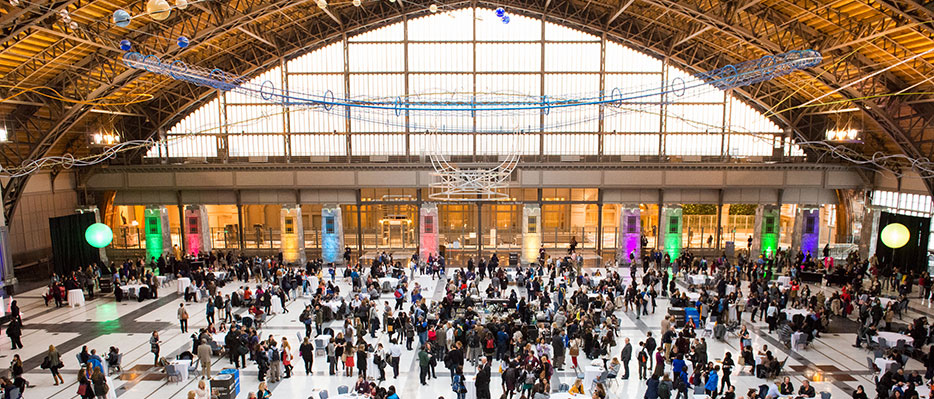 Scott Spitzer Photography was recently hired to photograph the biennial meeting for the Society of Research in Child Development (SRCD). The SRCD's mission is to "promote multidisciplinary research in the field of human development, to foster the exchange of information among scientists and other professionals of various disciplines, and to encourage applications of research findings." This three day conference took place in the Convention Center's Grand Hall, Grand Ballroom and various meeting rooms. During the opening reception, attendees were transported back to the 1960's as the Grand Hall's already impressive atmosphere was was transformed- complete with themed food stations, a jukebox style DJ stage and photobooths. Putting all the pieces together was the talented Roberts Event Group, the leading provider of special events, meeting management, destination management and event entertainment servicing Philadelphia since 1994. Experient, a global meeting planning and event management company, was on-hand as well, managing the entire conference from start to finish.

Working with this exceptional team, Scott Spitzer Photography documented the opening reception, the keynote address, award presentations and poster sessions. Over 6,500 people attended the conference and Scott Spitzer Photography captured the details of each of these events while reflecting the magnitude of the attendance through high impact imagery. Each picture conveyed the success of the conference and the vibrant group of attendees.
The Pennsylvania Convention Center is a spectacular venue for conferences and large scale events and every time we are there for an event, it's a blast to shoot. Scott Spitzer Photography specializes in trade shows, symposiums and conferences by creating images that capture the spirit of the day and tell a story.